Let's give this project a topic of its own, in the sub forum where it belongs.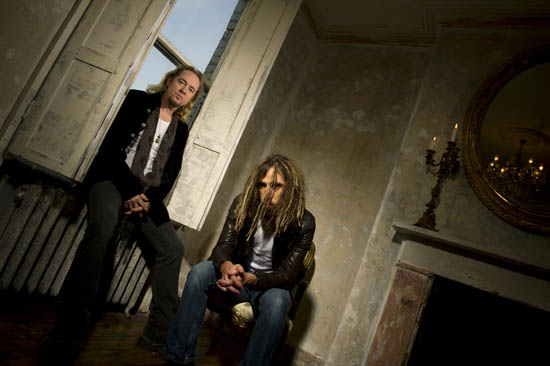 Adrian:
"It was great working at my own pace and in my own studio with no time constraints. I think during the making of this album I went around the world twice with Maiden, working on the project in between. In the process, it allowed for a bit more of an experimental approach."
Meanwhile, Mikee goes head to head with this renowned player as a full writing & production partner, adding new (sometimes surprising, often experimental) layers to the tracks, and ensuring that the music glistens with an inherent contemporary sheen.
Mikee:
"Adrian inspired me in many ways. I learnt the importance and the power of choruses in songs. Adrian also gave me a lot more belief in myself melodically. I think we pulled each other out of our comfort zones, creating something fresh and exciting along the way. We co-produced the album together, and the whole recording process was very relaxed -- no deadlines, just honing the songs naturally as we recorded them, a new experience for both of us."
In addition to the Primal Rock Rebellion pair, there are backing vocals on three of the tracks (delivered by Tarin Kerry, discovered by Mikee while he was acting as producer for a band she was in), viola on the bulk of the songs (provided by Abi Fry of Bat For Lashes), plus original SikTh member Dan 'Loord' Foord on drums.
'Awoken Broken' was produced by Adrian and Mikee, and mixed by Simon Hanhart, whose previous credits include everyone from Tin Machine to Saxon. The album features 12 tracks top to tail, and it will be available on digi-pak CD, digital download and double coloured vinyl in gatefold sleeve. The track-listing runs as follows:-
1. No Friendly Neighbour 4.53
2. No Place Like Home 3.06
3. I See Lights 4.59
4. Bright As A Fire 6.21
5. Savage World 3.38
6. Tortured Tone 5.08
7. White Sheet Robes 5.16
8. As Tears Come Falling From The Sky 0.47
9. Awoken Broken 4.58
10. Search For Bliss 4.13
11. Snake Ladders 4.43
12. Mirror and the Moon 5.04
- - - - - - -
Released on Adrian's birthday: 27th February 2012
So who's going to buy the new album
Awoken Broken
?
*raises hand*