Self explanatory. Going to start this one with genres I am not too much attached. Let's kick it with
Power Metal
: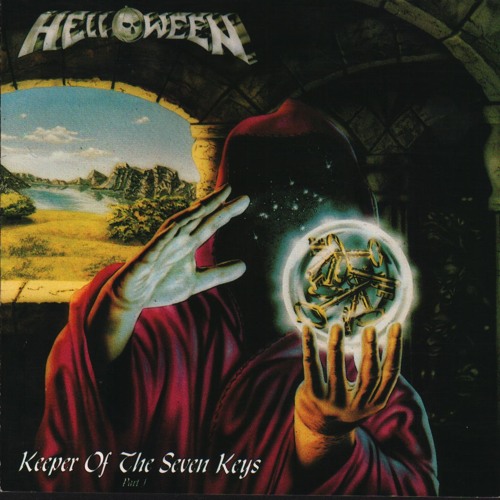 Helloween - Keeper Of The Seven Keys Part 1 (1987):
First and foremost obviously Helloween since a) they're arguably the creators of the entire thing b) are by far the genre's band I like the most. Sure I only like their first 4 albums (plus the EP's) and one of those has little Power Metal (Pink Bubbles Go Ape). It was a battle between Keeper Part 1 and Walls of Jericho and it really saddens me leaving their debut out but I think I like the sophomore a tad bit more: tons of energy, melody and yet preserving some of the early punch with a quartet of amazing musicians (RIP Ingo) fronted by a out of this world singer preforming all time classics like I'm Alive, Future World, Halloween or A Little Time.
Running Wild - Under Jolly Roger (1987):
Still in Germany (and we'll be staying here for a while) and man was early Power Metal well crafted in these lands (in this case seas). Early Running Wild was really cool, rough and energetic stuff. It was the first time the band went on creating epic yet furious tales of piracy (something that would remain for the next albums) and these dudes mean business. The title track is simply a metal hymn but there's also room for other great tunes like Merciless Game or the slow paced Land Of Ice. It was also tough to leave Death Or Glory out but I had to give it to the band's third album.
Scanner - Hypertrace (1988):
While not on the echelon of their Teutonic brothers Scanner still delivered one hell of a punch with its mix of Power and Speed Metal. Not that it's a masterpiece or anything close but the band's debut has some exciting stuff indeed. Cuts like Warp 7, RMU, Wizard Force and Terrion sure grant a great listening to every early Power/ Speed metal fan out there. If you like Helloween's records with Kai Hansen singing or early Running Wild then this is certainly for you!
Crimson Glory - Transcendence (1988):
Now we're out to the United States and man... do I love this record! It even has some shards of Prog spread throughout the title track, In Dark Places and Burning Bridges. But if you're into Power Metal pomp and speed just listen to blasters like Red Sharks, Eternal World, Masks Of The Red Death or the epic Where Dragon Rule. Crazy good musicians with a out of this world vocalist (RIP Midnight). Hugely underrated and a mandatory record.
Blind Guardian - Follow The Blind (1989):
Yes I know most people prefer their later more melodic stuff but IMO Follow The Blind is as great as Power Metal can get. Here the guys managed to find the perfect equilibrium between their almost speed metal like sound and the following records. Hansi's voice takes a huge leap in quality. absolutely unique style and ever since remained one of my favorite singers in the whole genre. Banished From Sanctuary is a strong contender for my favorite Power Metal song ever and then we have the title track, Damned For All Time, Fast To Madness and (of course) Valhalla. Stellar.
Gamma Ray - Sigh No More (1991):
After his departure from Helloween Kai Hansen took the bull by the horns and alongside ultra gifted singer Ralph Scheepers released an already impressive debut for his new project. But I think Sigh No More is more mature and after some spins becomes even more catchy than its predecessor. Rich And Famous sticks to your head from the get go but songs like the slower Changes (with its refrain's homage to Priest) are slow growers, the mood changes of Dreamhealer are truly well penned while Start Running and As Time Goes By are sure shots for every fan of the genre.
Manowar - The Triumph Of Steel (1992):
Now I really dislike the majority of Manowar's stuff and their cheesiness. Yeah, they always managed to pull some good songs here and there during the 80's but nothing solid enough in a single album IMO. Well, this bad boy here is something completely different. Not that it's devoid of cheese but overall I consider it to be a really great record. It starts with an almost half an hour long (!) track based on Homer's Illiad by the name of Achilles: Agony And Ecstasy In Eight Parts. And if it's true that some of the album's best moments are present in this tune (the opening and Hector Storms The Wall are stunning) it's also true it contains some truly bad stuff in form of the soloing parts (Armor Of The Gods and both parts of The Desecration Of Hector's Body). Other than that Metal Warriors is also a filler but credit where credit's due: everything else is top notch. Stuff like Ride The Dragon, Spirit Horse Of The Cherokee, Burning and especially The Power Of My Sword are crazy good.
Angra - Holy Land (1996):
Despite containing some songs I'm not at all into (to be more precise the "ballad like" stuff) this damn thing has much more going around here and I think it's a near unique record. It's like if someone took some DNA out of Brazilian indigenous music, Batucada and added it to a cross between Helloween and Dream Theater. If you want to experience it just check the Carolina IV, Holy land and The Shaman sequence. On the other hand ZITO is a more straight forward Symphonic Power Metal tune (and a cool one) but the high point on this conceptual album about the growing of Brazil after the Portuguese colonization is (IMO by far) Nothing To Say. Wow! What a masterpiece of a track and what way to begin an album with! Extremely well played and diverse record (RIP André Matos).
Virgin Steele - The House of Atreus Act I (1999):
Lets address the elephant on the room... these guys sure picked some ideas from a certain record I've already mentioned here, especially the concept (ancient Greek literature, this time the Oresteia) but to a certain point one can argument that Virgin Steele achieved an overall more cohesive body of work. Kingdom Of The Fearless is utterly perfect and tunes like Through The Ring Of Fire, Great Sword Of Flame, Return Of The King and The Fire God are also really impressive. Overall a extremely well put together conceptual album that doesn't bores you despite its many interludes and lacks a single bad tune.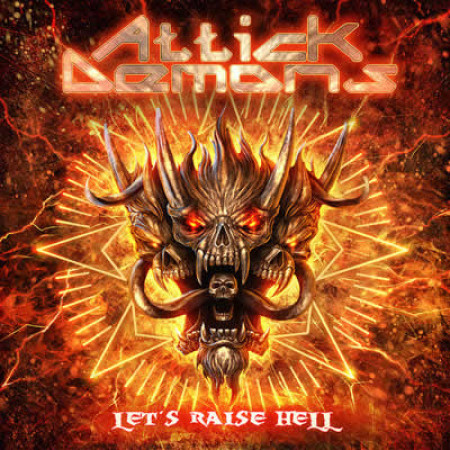 Attick Demons - Let's Raise Hell (2016):
Speaking of Portuguese here are Attick Demons. Now do these guys make anything new... no, not really. Have I put 'em on this list because I'm a long time friend of Artur, Luís and Nuno? Yes, in part... I must confess. But fact is this record is much more sharp and aggressive than Attick Demons' previous work, while still mingling stuff like Maiden, Manowar and Helloween with a hard to find old school aftertaste combined with the great talent of its performers. So it truly raises hell and also some eyebrows. Either be it by throwing speedsters like Circle Of Light, Adamastor and Ghost or slower and heavier tunes like Dark Angel or Endless Game, fact is Nuno, Artur "Bizas", Luís "Slash" and the rest of the crew deserve huge props for this one.
So here are my ten bands/ records when it comes to a particular genre (in this case Power Metal). Pick your genre and let me know your list.
Last edited: