As you scream into the web of silence...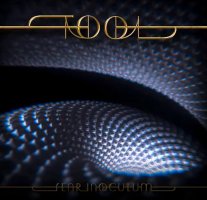 Tool
Fear Inoculum (2019)
"Fear Inoculum" - Thirteen years after their last record, Tool return to open this one with a very quiet and subdued intro with a ton of groove. It moves, it flows and ebbs, like a river through time. Maynard comes in softly. Lyrillically this seems like a very mature look at stepping away from an abusive relationship, a saga we've already seen darker takes on in songs like "Prison Sex" and "Pushit". I love the pre-chorus after the first verse, the breathy and faster pace of the vocals is great. And the chorus itself? Killer. What a great way to open up the album and show off a new mission statement. And halfway through, the song shifts into something a little heavier and more rhythmic, but never losing that fantastic groove. The final lines are triumphant, with the narrator breaking free of the toxic influence that once held him down. And the song ends with some great riffing and a cool solo, a nice rise and cap on a great, great song. I really struggle to see any flaws in this one. It's groovy as hell, utilizing the extended runtime for an evolving experience, and is a fantastic listen every time I hear it. 10/10
"Pneuma" - Another quiet intro starts off the second song and it's really nice. Then comes a bass intro that reminds me slightly of "Schism" before the song actually gets started. The time signature is apparently 33/16, which explains why it's such a mindfuck to bop along to. But their usage of it is fantastic; this is another groovy song with a little more 'life' so to speak than the previous song. The song winds along with no rush before hitting a fantastic chorus that feels thematically linked to Lateralus's searching for meaning. We are all one. Pneuma. The post-chorus riff (which is heavy as fuck) sounds incredibly similar to the heavy riff in "The Patient", but used for a completely different effect. A nice nod, whether intentional or not. A lengthy instrumental based around bass and drums meanders for a bit before rising back into the riff, where all but guitar drops out in one of my favorite moments on the album. Then the chorus returns for dramatic effect, and with a crash and bang finale it finally winds itself down into a fading spark. If I have one complaint it's that as well-constructed as this song is, the final riff and lengthy instrumental aren't quite as good as other moments on the album. But that's it. Still an excellent, twisting serpentine epic. 9/10
"Invincible" - Quiet, building intro again, this time based around guitar. Maynard enters, bringing to life a fading warrior entering his sunset, his final battle, needing to keep on his feet even while staring in the face of inescapable failure. It's an interesting metaphor for the band's return to the scene over a decade since their last record. I love the refrain to this song, a simple but catchy little chorus. The build-up with each passing moment is awesome. Finally hitting a proper drumbeat in the second chorus is such a nice pay-off. The band could have ended things after the third chorus and made this a nice, building, more compact number clocking in around six minutes. However, they don't take the easy way out. If there's one issue with the song it's the way it moves into the next section. It feels disconnecting and is a weak moment in an otherwise great track. Luckily it starts to find its place again fairly soon thereafter, and it's all worth it for the crushing riff we get foreshadowed and then thrust into with force. One of the album's finest moments. Afterwards the song stops before erupting into the final section, a faster piece about the hero chasing faded dreams with a lot of hope in a moving and brilliant closing to this monster. If it wasn't for the awkward transition in the middle this could've been a perfect song. Unfortunately it disrupts things just enough to move it down to a great song with excellent moments even if some don't work as well. 8/10
"Descending" - The sound of oceans opens this beast before — yet again — we have ourselves a quiet intro. The lyrics and Maynard's vocals really come together to make this feel like a descent into the abyss, while working as an inspirational lyric about mankind. The hints at the chorus and the build up to its eventual explosive rise is fantastic. The instrumentation is exquisite. The song takes a breather and then comes back into the stacked chorus (or pre-chorus and chorus, depending on how you see it). The chorus is like a submarine breaching on the surface, surrounded by black sky and ocean. And once the lyrics have left us, we descend back down into the abyss for an extended instrumental section. It begins with a musical refrain of riffage that has a start-and-stop sort of pull to it — then Adam Jones gets to let loose with a pretty lit solo. Things quiet down as we reach the seafloor, a vast desert of darkness. And then the music rises up again as we drift along, heading into deeper underwater canyons as a synth appears for some extra effect. After some buildup we hear a guitar line that was nodded to some minutes ago, and is now a climactic eruption for us as the ocean reveals to us a red haze of musical extravaganza. Now you might think that the song will end on that note, but not so. Adam lays down another solo, this time with some heavy wah usage. Somehow it works to fantastic effect. Okay, now we're actually winding down, as that riff refrain returns and we reach the surface again. The imagery present in this song, both through the lyrics and the music itself, is simply godtier fantastic. It's a building behemoth in leviathan domain, with so many twists and turns that keep you floating through. What an amazing song. 10/10
"Culling Voices" - Quiet synth intro before guitar leads us to the verse. The music certainly does what the band seeks to accomplish with it, but it's hard to be as into this one after the gobsmacking previous song. The problem with this song is that there's just not a lot to it. It's pretty quiet for the first half, then builds up to a big climax, before stripping back down and building up right back up to the climax again. It's kind of a weird way to structure a song, and makes for a way less dynamic piece than the rest of the album's tracks. Do I still like it? Yeah, I think this is a good song with some nice passages, it's just also the least interesting and necessary song on an album where all the other songs are genuinely great. 7/10
"Chocolate Chip Trip" - The only "interlude" on the CD release is this track, which could also be considered a proper song given that there's actual music on here. It's an electronic-backed showcase for Danny's intense drumming skills and is a nice breather for the fifteen minute final track. 7/10
"7empest" - The album's final song opens with another quiet guitar intro with some percussion that works in unison to remind to the "Vicarious" intro. Then the band segues into a fantastic Jones riff, with Maynard telling himself to "keep calm" before the storm erupts with "fuck… here we go again." The lyrics and performance, the angriest and heaviest on the album, are reminiscent of the band's early work, only done with the current Tool's style and with a more mature feel. It's a nice return though, and done with a lot of bite and groove. My personal theory is that this song is somewhat to do with the Trump presidency since there are a lot of lines about shifting blame and lies in spite of the sinister nature behind it all. But then a lot of people piss Maynard off so this is really only just one interpretation. A storming riff and short solo leads to a hook ("Calm before the torrent comes") and then the song enters a lengthy, winding instrumental section. I love playing this one on the road. It brings to life the back streets and makes for such an enjoyable experience. It's a slow-building showcase for Adam's methodical skills, while Justin and Danny keep things grounded in the rhythm section. Lots of great musical passages sweep past us before the vocals finally return to continue the narrative. The chorus heartens back to "Third Eye", but improves upon that previous epic immensely. It's a simple, raging one that keeps the song's momentum going excellently. Adam throws in a fairly wild solo for good measure before the song comes down and returns to the intro. The final verse is a building, slightly hopeful but ultimately damning piece that leads us back into a rip-roaring riff-building instrumental that climaxes with the final chorus reprise. The monster finally slinks to a close with a final nod to the intro and the album itself comes to an end. What a colossal song. So many bends as it winds along, and it keeps the attention throughout all of it. It's a different beast when it starts than when it ends. A grippingly titanic affair that is a more than worthy closer to the album. Fantastic song. 10/10
Fear Inoculum
is probably the band's most consistent album. Every song on it is long, as the band takes things to the very furthest extent possible before wrapping up. It's an approach that may not always be perfect, but I like it because we get to hear as much of the song with as many variations as possible. And the album's success rate speaks for itself. All of the tracks are at least good. Most of them fucking slap. It's a worthy, involving return to the form from a band that took forever writing it. Well worth the wait.
Total:
87%