So I finally decided to post all the Eddies from the game. I asked two times if its worth, and some members have answered me, not much - I thought that when you asked something in a forum, you expect to have replies....
Anyway, when I post a picture of Eddie from the game, first I will write his name from the game

in bold

, then I will write the song or album from where originally it is. Every Eddie belongs to a certain group of Eddies ! The 5 groups are:

[] Warrior [] Sentinel [] Magus []

Gunner


[] Assassin

We've discussed pretty much everything about Maiden already, but I'm doing this thread for all Eddie fans.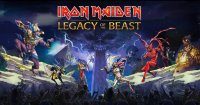 Last edited: