Half the time when I open a page here since the move to the new forum software, I get this: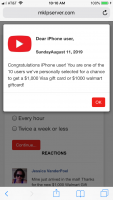 If I hit the back button, it goes to a different spam site. If I go back to the same forum page that spawned this, there's a >50% chance it will kick off the exact same ad. If I manage to load a different forum page before the ad kicks in, the percentage seems lower.
The only other site that does this to me is Blabbermouth, and it only happens rarely there. I don't know what the hell is triggering it here, but it renders the site almost unusable once it kicks in.