Hiya, this is an overview of all officially released albums with current members from Iron Maiden playing on it. The albums that we are aware of.
There might be more! Who knows what else Nicko has done in the seventies!
This is only about studio albums and not about guest work: a member was on the album, fully involved.
I decided against listing Urchin releases. Urchin never released an album. Some people did without the consent of Adrian Smith. The released albums feature songs that were not produced and put in order with an album in mind (the band's or Adrian's mind). I see the Urchin songs as demo sessions. Some tracks were released officially on single. Most of it never saw the light, the artist never had an (achieved) goal with the material, or at least not yet to their satisfaction.
Provided by
@Ariana
, translated from an interview for a Bulgarian radio around the time of
Awoken Broken
release:
Adrian: As far as Urchin records go, I must tell you, those are things that we recorded on a 4-track analogue recorder (not sure that's the correct term, sorry!), in somebody's basement, more than 30 years ago. These people from the label you mentioned had no permission to release the records, not from me, or any other Urchin member. They didn't even ask if they could release them. I'm not that kind... but still they could have called.

Q: That's strange! I find it surprising they didn't get in touch with you.

Adrian: It's not very difficult to get in touch with me. They just didn't want to do it. They release some old demo tapes of bands they never ask for permission. If they had asked, I would've probably agreed, but these records are just not good enough. It's not much of a problem but I got a bit frustrated, that's all. I was surprised as well.
@lira
and all others, if you see some errors, or have other contributions, please let it know!
Also: if you think albums were released in a different order, let me know and I'll change it.
Click on images (divided in 20th and 21st century) below for bigger view.
20th century: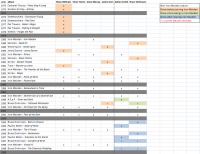 21st century:
Ranking
Nicko McBrain:
23
(14 Maiden, 9 non-Maiden)
Bruce Dickinson:
21
(13 Maiden, 8 non-Maiden)
Steve Harris:
19
(17 Maiden, 2 non-Maiden)
Adrian Smith:
19
(12 Maiden, 7 non-Maiden)
Dave Murray:
17
(17 Maiden)
Janick Gers:
14
(10 Maiden, 4 non-Maiden)
Last edited: