Steve Harris insisted that he tried the Keyboards once and decided that it was not right for the band. However 6 months after Tony Moore left and 4 months after Dennis Wilcock's departure Steve advertises for a keyboard player in Melody Maker on 19 August 1978.At the time Steve had been rehearsing with Dave Murray and Doug Sampson and were yet to find a singer (they would meet up with Paul Dianno at the bank holiday weekend at the end of August with Paul joining the band in early September 1978).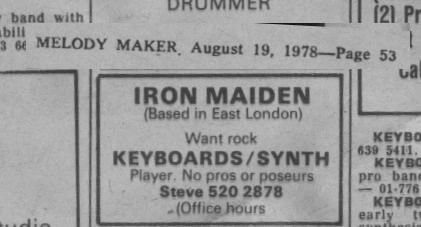 The advert for Tony Moore must have appeared in Melody Maker around the end of August or September 1977 after Maiden had played the Half Moon Theatre on 22 August 1977 probably featuring Terry Wapram on guitar. This gig may have been Ron Rebel Matthews last gig with the band.
The band place the advert looking for both a drummer and a Keyboardist.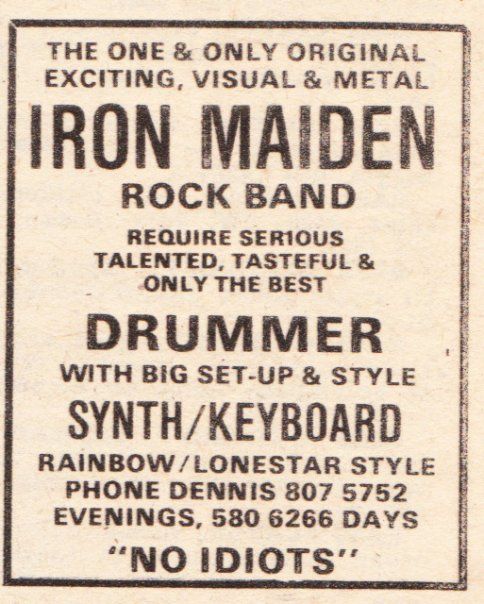 The general consensus is the band played the Brdigehouse in November 1977. However no records exist to prove this. I believe the band played with Tony on the 15 February 1978 when they supported Dogwatch.
Firstly the band placed a large advert in Melody Maker on 21 January 1978 stating that they were back. If they had just gone back to being a 4 piece it is unlikely they would have advertised like that.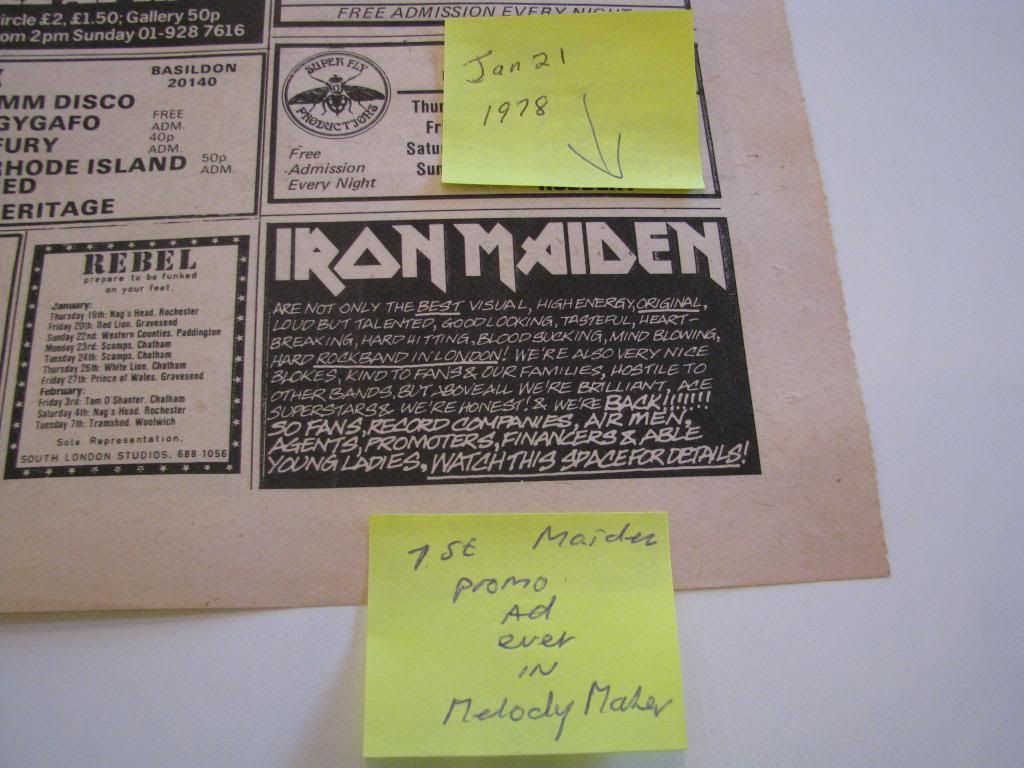 Secondly Tony Moore owned a Wurlitzer Piano when he was with the band. ON the 2 February 1978 the bands gear was stolen which included a Wurlitzer Piano.
The band had to cancel at least 2 shows because of the theft. However they wanted to get back out playing so managed to arrange the gig with Dogwatch and borrow some of their gear.
Just before the gig, the equipment was recovered, but they still borrowed Dogwatch's Drums and amps and as we all know the gig did not go as planned.
Tony did not leave the band right after the gig. However he was thinking over his options. At this time the Damned were just splitting up and played their last gig on 11 Feb 1978 and cancelled gigs just after this date stating that a "radical new act" was in the process of being put together. It would be about this time that Brian James was going to start to put Tanz Der Youth together. Tony was still in
the band when he auditioned for the badn and had to tell steve that he was going to join Tanz Der Youth.
Once Tony left, the band would not play until April 1978. Around the end of March 1978 Steve sees Dave Murray playing with Urchin at the Brecknock and manages to convince him to come back and join Maiden.
It is probably around this point that Terry is not happy with a second guitarist and leaves the band.
A series of gigs are planned on the 6 April at Green Man, Plumstead, 7 April at Cart & Horses and 8 April at the Bridgehouse. It would probably be the Green man gig on the 6 April that Dennis failed to show up and the band (Steve, Dave and Barry) may have played as a three piece. Dennis may have failed to show up because of the tension of Dave Murrays return and Terry Waprams leaving.
Dennis and Barry Purkis (Thunderstick) play their last gig with Maiden at the Bridgehouse on the 8 April 1978.
Steve and Dave are then left when Steve gets back in touch with Doug Sampson and they rehearse over the summer, tightening up the arrangements and also perhaps speeding them up.
Then in August and without a singer Steve advertises for a keyboard player? I asked Doug Sampson about it but he couldn't remember anything about it but he thinks he would have been against the idea at the time.
Two weeks later they meet Paul Dianno. I am guessing that when Steve heard Paul sing he knew the band would sound better with a second
guitarist. They would then have advertised and eventually brought Paul Cairns in and go onto record the Soundhouse Tapes. But that has already been discussed at length elsewhere.
I am still trying to find more evidence to back up my theories on this.