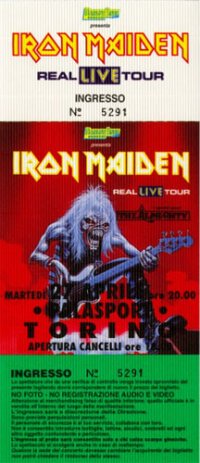 MAIDEN TRIVIA OF THE DAY – MAIDEN WORST CONCERT?​
When talking about Maiden's long career, many say that their lowest point was the years with Blaze due to the fact that the band almost stopped playing in big arenas to return to clubs or other places, sometimes even playing to just some hundreds and not thousands of people like they used to do, however, if one takes the time to research things a little bit deeper, it might find that things are a bit different to what many say.
The year was 1993, and as almost any Maiden fan knows, Bruce had decided to jump ship leaving the rest of the Maiden team with the difficult decision of going out on tour with someone who didn't want to be there… Why not cancel and take the time to search for a new singer? The answer given to the media was that due to the fact that most of the tickets had been sold out long before, it wouldn't be fair to the fans to cancel the whole tour, however the truth is that due to contractual obligations, if the band were to cancel, they were going to lose money and even more ground in the metal arena, but, was this a good decision…?
Let's travel back in time, exactly 28 years ago, Maiden was scheduled to play at the Palasport in Turin, this was to be the first concert of the Italian leg of the tour and the band already had doubts about the decision they had made about going out with Bruce, this, due to the fact that some nights Bruce just didn't seem to care and sing… But it seems like the worst was yet to come… First of all, the concert had really low sales which made the promoter think twice about going on with the concert. Then the gig itself, during 'Prowler', just the third song in the setlist that year, an Italian "fan" decided to spit at Bruce, who obviously got extremely mad and left the stage, which gave the crowd the strange opportunity to think about that time when Di'Anno got arrested and Steve handled the vocals for a moment before giving up, and leaving the band giving an almost instrumental version of the song.
After the previous event, all went downhill. Bruce just didn't care anymore so while the band was giving it all, Bruce almost talked the lyrics, then sung for a bit, then went back to being bored, all in all it was kind like seeing two different persons on stage, especially on 'Wasted Years'… ironically…
Stories about almost every date of every tour between 1975 and 1987? Is all here in the
EDDIE MADE ME DO IT (THE RISE OF THE BEAST 1975-1987)
which you can get at
https://www.subscribepage.com/eddiemadedoit
and remember, when you buy, you don't buy a book, you also help feed twins!