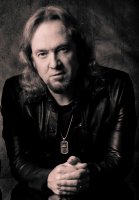 Adrian Smith has been a critical part of Iron Maiden's sound for 11 studio albums, but he's also created a significant amount of music outside of the band, spanning multiple genres and vocalists (including himself!).
Inspired by the
Bruce Dickinson ranking thread
, I thought it would be interesting to do the same for Adrian's solo work. After some discussion, I've decided to include every album track and B-side from projects where Adrian was a primary songwriter (A.S.A.P., Psycho Motel, Primal Rock Rebellion), every studio track that Adrian co-wrote from collaborations where he was not a primary songwriter (Bruce Dickinson, Michael Kiske), and every studio track from his work that only saw limited release, but is still readily accessible online (Urchin, The Untouchables). This adds up to 82 tracks in all. The full list is in the spoiler tag below, complete with links.
A.S.A.P. -
Silver & Gold
The Lion
Silver And Gold
Down The Wire
You Could Be A King
After The Storm
Misunderstood
Kid Gone Astray
Fallen Heroes
Wishing Your Life Away
Blood On The Ocean
Psycho Motel -
State Of Mind
Sins Of Your Father
World's On Fire
Psycho Motel
Western Shore
Rage
Killing Time
Time Is A Hunter
Money To Burn
City Of Light
Excuse Me
Psycho Motel -
Welcome To The World
The Last Chain
A Quarter To Heaven
Rain
Believe
With You Again
Into The Black
No Loss To Me
Underground
Welcome To The World
Something Real
Innocence
I'm Alive
Hypocrisy
Primal Rock Rebellion -
Awoken Broken
No Friendly Neighbour
No Place Like Home
I See Lights
Bright As A Fire
Savage World
Tortured Tone
White Sheet Robes
As Tears Come Falling From The Sky
Awoken Broken
Search For Bliss
Snake Ladders
Mirror And The Moon
Collaborations with Bruce Dickinson
Limited releases with The Untouchables
Since a lot of this will be new music to some people, I'll be leaving the voting open through the end of August.
Thanks in advance for participating -- I look forward to seeing how it all turns out. In the meantime feel free to share your thoughts on the music in this thread, but remember that the votes entered into the forms above will be the only ones that count!
As a bonus, check the spoiler tag below for official promo videos for songs from this list from Adrian's various bands. (If I'm missing any, let me know and I'll add them.)
EDIT: The countdown starts here!
Last edited: